Posted on 30/6/2013, 1:54 pm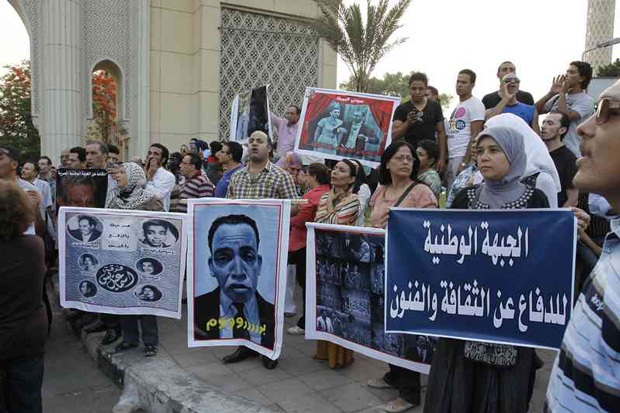 Tensions have been building up in Egypt ahead of mass protests called for by opposition activists on 30 June, the date marking the first anniversary of Islamist President Mohamed Morsi's inauguration. Shahira Amin reports on the growing concerns for free expression

A sit in by a group of Egyptian filmmakers, writers, performers and intellectuals — which has continued for the past two weeks outside Cairo's Ministry of Culture — is seen as a prelude to the bigger anti-Muslim Brotherhood protests planned for Sunday. The mass demonstrations are being called for by "Tamarod" (Rebellious), a nationwide campaign launched by members of the opposition Kefaya to collect signatures from Egyptians for a vote of no confidence in the Islamist President. Organizers of the campaign recently announced that they have succeeded in gathering 15 million signatures.

Meanwhile, the arts protesters outside the ministry are demanding the removal of Egypt's new Islamist minister of culture Alaa Abdel Aziz and protesting what they claim are efforts by the Islamist government to "Ikhwanize" the arts. Ikhwanize is an Arabic word which literally means the appointment of members of the Muslim Brotherhood in key positions in state institutions.

The protesters have been using peaceful means to hammer home their message including poetry recitals, performances and raising placards with anti-Muslim Brotherhood slogans.

Skirmishes broke out briefly last week after the peaceful rally was attacked by Islamist supporters of President Morsi who chanted pro-Muslim Brotherhood slogans and demanded that the minister purge the ministry of old regime remnants. Several protesters were injured in rock throwing incidents and assaults by the Islamist demonstrators before riot police intervened.

The protesters began their sit in after Abdel Aziz dismissed several cultural figures including the directors of the General Egyptian Book Organization, the Cairo Opera House and the National Library and Archives. These firings fueled fears that the expulsions were a first step to stifling artistic expression in the country by placing conservative Islamists at the helm of these institutions.

In a press statement released earlier this month, the Abdel Aziz defended the dismissals as a "campaign against corruption" which he said was a necessary step to purge the ministry of corrupt elements and halt embezzlement of public funds by greedy individuals. The cast of Opera Aida retaliated by appearing on stage with anti-Muslim Bortherhood placards and chants calling for the downfall of the Morsi regime.